Are you ready to revolutionize your business advertising? Buckle up as we embark on a journey that takes your brand visibility to a whole new level. If you're in the driver's seat for your company's marketing strategies, this one's for you. Let's explore the unbeatable advantages of 3M Certified Vinyl Vehicle Wraps, coupled with the incredible perk of Complimentary WISPI Design. Get ready to rev up your brand and turn heads on the road!
The Power of 3M Certification
Picture this: Your fleet of business vehicles, cruising down the highway, leaving a lasting impression wherever it goes. This is what 3M Certified Vinyl Vehicle Wraps are all about. They're not just any wraps; they're the gold standard in the vehicle wrap industry. When your fleet sports these wraps, you're telling the world that your brand is built on quality and reliability.
But what does 3M certification really mean? It's the guarantee of durability, performance, and peace of mind that comes from knowing your investment in vehicle advertising/branding is protected by 3M, the industry leader. You can be confident knowing that your vehicle wraps will look as good as new for years to come. Now, isn't that a winning start?
Want to see how 3M certified wraps transform businesses? Check out our Vehicle Graphics Project Page for some awe-inspiring success stories.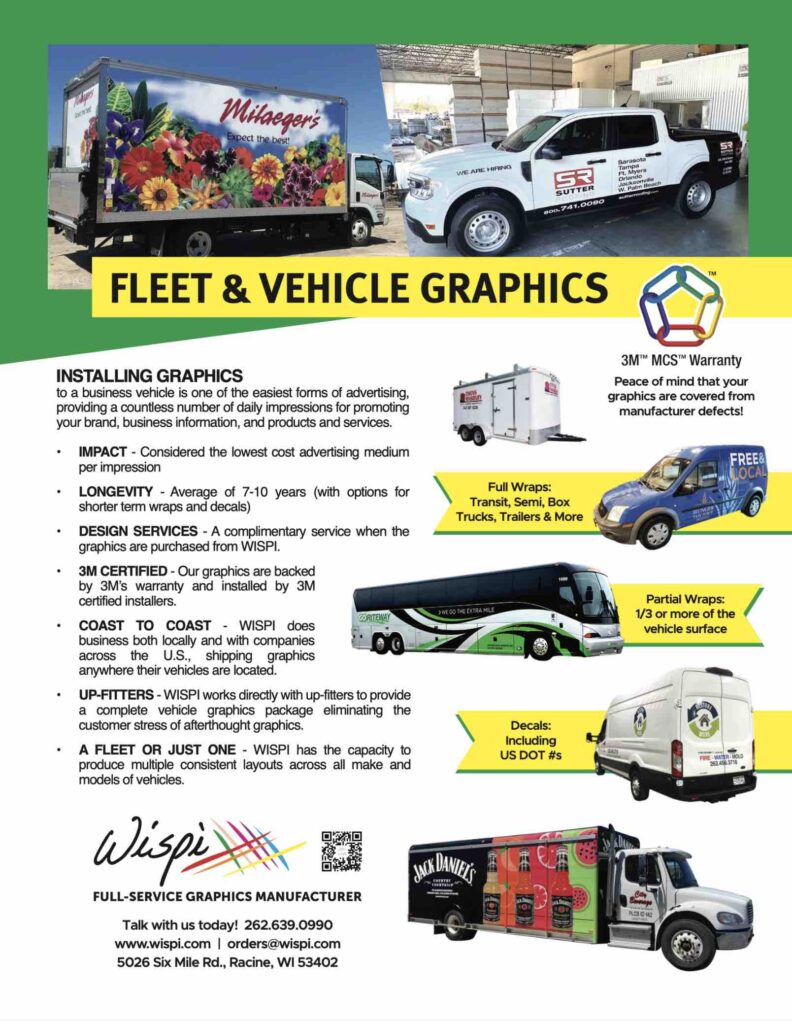 Complimentary Design: Adding Value to Your Investment
Now, let's talk about that ace up our sleeve – Complimentary Design services from WISPI. You know, we're not just about providing quality wraps; we're about crafting rolling works of art that represent your brand. That's why we offer free design services when you choose WISPI for your vehicle wrap needs.
Why does this matter? Well, it means you're not just getting a vehicle wrap; you're getting a custom-tailored masterpiece. Our team of skilled designers will work with you to bring your vision to life. Whether it's a bold statement or a subtle visual, we've got you covered. And the best part? You save on design costs!
Ready to experience design freedom? Learn more about our high quality graphic services that include top-notch vehicle wrap design.
A Winning Combination: 3M Certified Wraps and Complimentary Design
Now, here's where things get exciting. Imagine the unbeatable combination of 3M Certified Wraps and Complimentary Design. It's like having a sports car with the heart of a lion – powerful and captivating.
This wining combo ensures your brand not only stands out, but roars with confidence. It's not just an advertising tool; it's a statement. Your vehicles become mobile billboards, catching eyes wherever they go. But it's not just about turning heads; it's about leaving an indelible mark.
Curious to see how our quality vehicle wraps and custom design services drive real results? Check out how WISPI worked with the Hunger Task Force and be inspired!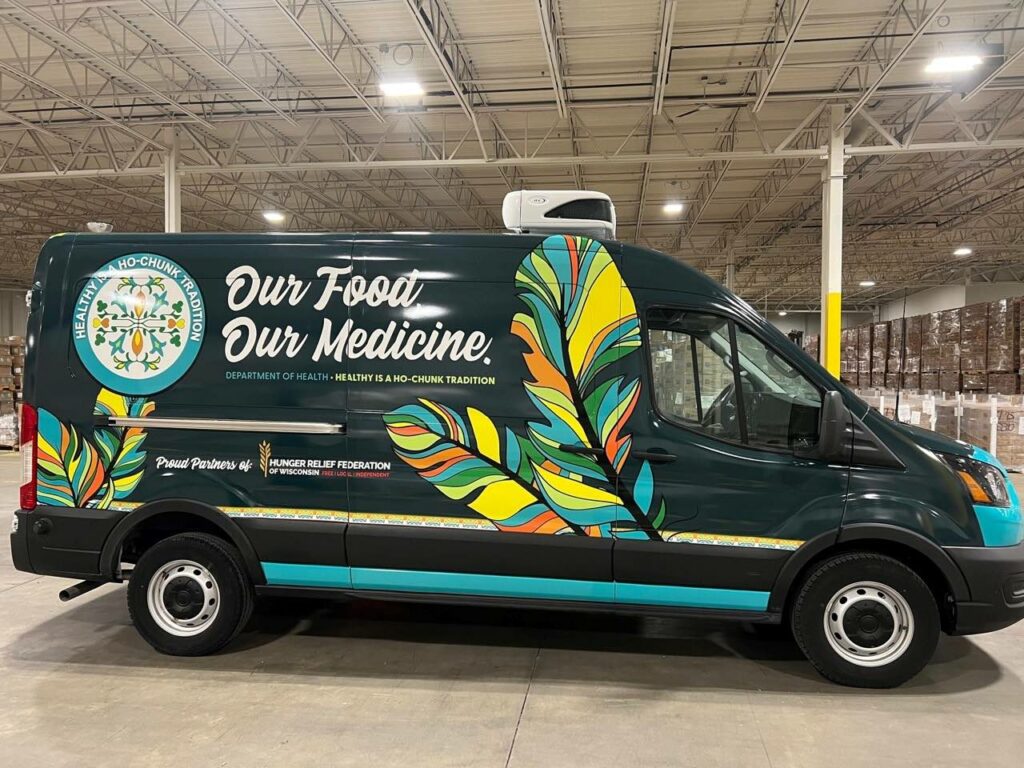 Choosing the Perfect Car Vinyl Wraps and Truck Advertising Wraps for Your Brand
Of course, we understand that every brand is unique, and that's where our expertise comes in. We're not just haphazardly applying wraps to vehicles; we're curating a visual experience. Our designers know how to select the right graphics, the perfect layouts, and the most compelling messages.
Your brand deserves to shine, and we'll make sure it does. Whether you're aiming for a local audience or want to conquer national markets, we've got your vehicles covered (literally). We believe in versatility, and that's why our wraps work for all audiences.
Learn more about optimizing your brand's message with our blog post discussing Full and Partial Car Wraps.
Longevity and ROI
Now, let's get down to the nitty-gritty – longevity and ROI (Return on Investment). It's not just about making a splash; it's about making a lasting impact. 3M Certified Wraps are designed to withstand the test of time. That means you're not just investing in advertising; you're investing in long-term brand visibility.
And when it comes to ROI, the numbers don't lie. We're talking about a marketing strategy that delivers exceptional returns. If you're looking for a cost-effective way to get your message out there, you've found it with vehicle wraps from WISPI.
Want to see the numbers? Our blog post outlining Vehicle and Fleet Wrap Services breaks it all down for you.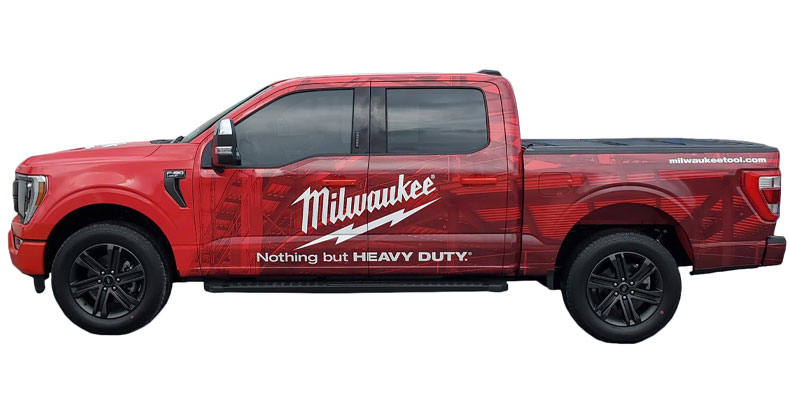 Elevate Your Brand with Vinyl Truck Wraps and Fleet Graphics
In conclusion, when you choose 3M Certified Vinyl Vehicle Wraps with Complimentary Design, you're making a bold statement that goes beyond traditional advertising. Your brand becomes a memorable presence on the road, turning heads, sparking conversations, and leaving a trail of success in its wake.
But our commitment doesn't stop at wrapping vehicles; we're here to transform brands into unforgettable visual experiences. As you embark on your journey to brand elevation, consider the unparalleled impact of vinyl truck wraps and fleet graphics.
Ready to take the first step towards brand transformation? Contact us today, and let's craft a winning strategy for your business that includes the power of vinyl truck wraps and fleet graphics.